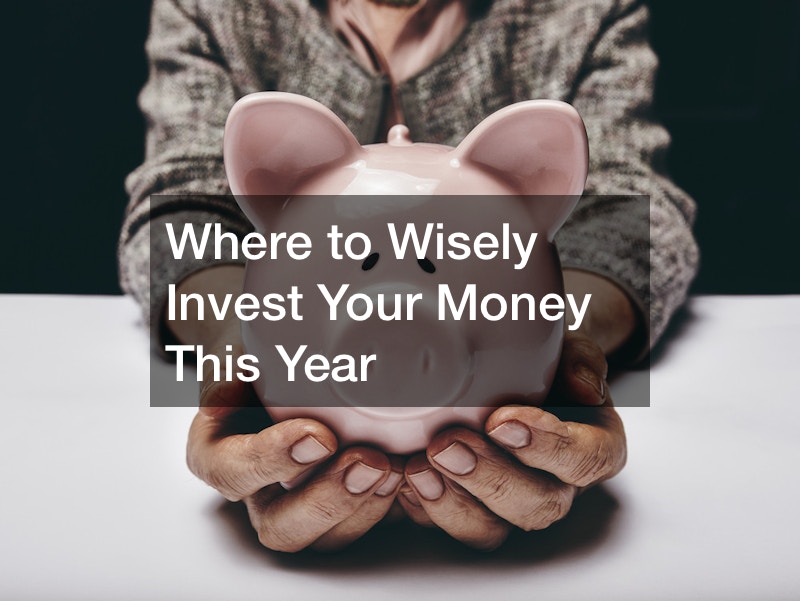 It's always great to make wise investments, but knowing which ones are worth your money is sometimes tricky, and other times, those that seem like they won't work do well. To wisely invest in stocks or other assets takes a good sum of research and navigating various markets to monitor their growth. After the pandemic, many businesses and individuals had to pick up from a difficult setback financially and start or recover what they had and make that work for the better. Good investments are worth all the time, effort, and cash.
Why Should You Invest?
Investing helps to grow your money by setting it aside and allowing it to draw interest and grow. Sometimes you can invest in a specific market, and as the market does well, so do your shares. Investments can grow your personal and business wealth. With the rising economy and inflation, it becomes difficult to keep up, and many people must scale down to survive or stay afloat. When you wisely invest, you could be able to beat inflation when it occurs and have the means to get a slight head start if possible.
What Are Some Top Investments People Usually Make?
Short-term corporate bonds
You can wisely invest in corporate bonds. These bonds have a lower risk of being impacted by inflation and only carry on for up to five years. Their unique nature makes them better on returns compared to government and municipal bonds. The short-term can yield a reasonable sum of growth for the investor.
High-yield savings accounts
High-yield savings accounts are known to be safe and have a larger return on investment. Some investors can invest up to $200,000, and these investment accounts are available from credit unions and banks.
Value stocks
Value stocks are a saver option for investment and don't require a large starting sum. As rates increase, so do these stock values, and they are available to online brokers and mutual funds.
Individual stocks
If you have some extra cash, and you're looking for a place to invest, some savvy investors will swear by individual stocks to invest wisely. Individual stocks are perfect for people with a variety in their portfolios and can accept the higher risks of investing in this type of stock.
Other Investments That Are Different and Can Yield Profits
It's not always traditional investments that you need to focus on to get your income growing. As an entrepreneur or individual looking to grow your wealth, you can also invest in less expensive avenues non-related to stock markets and other stock jargon. For example, investing in property is a good way to turnover wealth. If you can afford to invest in a block of flats or apartments and rent it out to permanent or short-term tenants, then you're going to generate good money from this property. So too, does investing in other products help you build for your retirement, save for your dream forever home, purchase a second vehicle, open a business, and anything else you can think of, it just takes time.
Custom Signs
Custom signs or custom signage is one of the leading aspects to wisely invest in this year and through 2024 because it helps businesses advertise and get reach. Customized signage is specially designed for the company and features specific print work and other features, helping to gain brand visibility. As a business, if you are invested in creating custom signs for other companies, you will also need to invest in the equipment to do so. But if you are setting aside funds to invest in signage for your business, then do so by wisely investing because you can get your business to grow through this type of traditional advertising. Often with signage on the outside and inside the store, you can directly communicate with your customers about anything like promotions or other information.
Used Cars
Join the used cars market and generate revenue by helping others find their dream or first car. Used cars will never go out of style and will always be an avenue that people require to get a head on transportation, whether for personal use or a business. You can invest in used cars as a business, or if you're an individual, you may be looking to invest in a new vehicle. Getting a car at used auto dealers can help you save money by paying lower than the actual asking price and market price when buying brand new. You could pay less for parts and can perhaps use OEM (Original Equipment Manufacturer) parts. Buying a used car as an investment for personal use or the use of your company will ensure that you can buy a floor or test model and get a special discount due to lower mileage on the clock.
Rare Guns
If you're looking for something to wisely invest in, then guns might just be a good option. Regular guns that were kept in mint condition are known never to lose their resale value by much. You can get a good ROI when you sell them. However, if you have a rare gun or even more than one rare gun, then you're looking to make an even bigger ROI.
The key ingredient with guns is to slowly buy them over time and then sell them at a higher price than what you originally paid for them. In an article recently published in the College Investor, gun sales rapidly soared when there were talks about gun laws tightening on assault rifles like AK-47s and AR-15s. But buying them in recent years doesn't make them a good investment due to the laws possibly changing. Special guns, on the other hand, can fetch a good profit. For instance, a firearm that's not been fired before and perhaps made by a renowned manufacturer will be a special gem when resolved.
Some of the most expensive vintage guns sold, as recorded by Fort Knox Vaults, include:
George Washington's saddle pistols that auctioned for $1,986,00
Simon Bolivar's Flintok pistols sold for $1,687, 500
Texas Ranger Sam Wilson's Colt Walker sold for $920,00
The 26th president of the United States, Teddy Roosevelt's double-barrel shotgun, sold for $862,500.
Gold-Inlaid Colt Model 1849 Revolver auctioned for $1,100,000
The 44.-Caliber Smith and Wesson, renowned for killing the notorious outlaw Jesse James, sold for $350,000.
More of the most expensive antiques ever sold, according to Free Range American, include the Millikin Colt Dragoon Revolver at $1.6 million , Pat Garrett's Colt Single Action Army that Killed Billy The Kid, a notorious outlaw in the old West was sold at $6 million.
An antique gun can be rare to find, and thus, the price is set to sell high when you do. Still, firearm sales can be expensive, and experts suggest purchasing low and selling high. If you are lucky to own an antique revolver or firearm, then have it appraised and see what it's worth now.
Vintage Motorcycles
If you love motorcycles and are looking to do more than just admire them, why not start your collection of vintage motorcycles? Investing in vintage bikes can yield excellent ROI. Some Kawasaki vehicles, like the 1974 Kawasaki 900, can range from $3,000-$24,000 depending on the bike's condition. According to Hagerty, one of the oldest motorcycles that's been around for 129 years. The 1894 Hildebrand & Wolfmulller was sold in Paris for $211,155. This motorcycle is said to be one of the first two-wheeled vehicles, which was still in excellent condition. Even their replicas made after that held significant value.
Vintage Clothing
From Haute Couture to chic style elegance, vintage clothing has always been a fascination and one that has also shown to be a good investment choice. Vintage clothes worn by famous people, royals, and rare designs are always a nice choice to invest wisely. They are known for being made with premium materials, handmade details, and intricate design processes; some have lasted the test of time for being on point with trends. When you buy used clothing, you might be lucky too, and some vintage garments are worth a lot more than you've paid for. Sometimes, old family heirlooms end up in the auction house that was maybe bought at a used vintage store.
Vintage clothing may be less to buy, allowing you to save money while acquiring a statement clothing feature. Vintage also brings with it a beautiful sense of style and essence of a lady and a gentleman. Some of the most popular designer brands known for their vintage clothes include Hermes, Chanel, Vivienne Westwood, Yves Saint Laurent, Oscar De La Renta, and Jean Paulk Guiltier.
Other Investments That Are Different and Can Yield Profits
Collectible Coins
Coins are probably one of the oldest forms of invested material sources, and they continue to be a hit even in the modern day. Sometimes rare coins are made and only a few of them are made, which later become extremely valuable when resold.
Some of the most expensive rare coins include the Saint-Gaudens Double Eagle Coin, which was first minted in1907 and carried on into 1933. The coin is said to be worth over $20 million, with only 445,500 made. The Flowing Hair Dollar coin was minted in the late 1700s, with only 1,700 of these ever made in America and worth more than $13 million. The Brasher Doubloon, named after the goldsmith Ephraim Brasher, was minted in 1789 and said to be worth over $9 million.
Scrap Copper
Scrap copper is known to be an old, yet valuable metal since ancient times. In fact, some say that the very first copper was discovered in 9000 BCE. Copper recycling is also another wise investment to consider as many electrical components as possible and items are made with copper for its good conduction properties. It is used in telecoms, power distribution, and on circuit boards, to name a few. Recycling this natural metal helps preserve energy and lowers carbon emissions
Quality Furniture
Your furniture is important whether you need it for your business or home. Investing in quality furniture pieces will make you spend less on buying new ones. For example, sofas are very important, and they cause a lot of traffic. Purchasing durable sofas from renowned manufacturers will probably pay more when you initially buy them. You will save in the long run as you won't have to keep replacing the seats for new ones due to the cheaper ones having issues after just one year. There are also good quality patio furniture that can last and is weather resistant too.
Real Estate
As mentioned before, investing in property can benefit you in the long run. Factors that often affect the value of property include the location and any improvements made over the years, like a remodel, which can also increase the value. You can use your property to rent to commercial or residential individuals and allow the estate to make money for you. With a cell tower land lease, you can also make a good ROI.
Invest In Boats
Boats are fabulous and beautiful and have always been associated with wealthy or upper-class individuals or families. Boats tend to keep their value high and even more so when they are in good condition. There is something for every boat enthusiast, from sports yachts to sailboats, fishing vessels, to speed boats.
Going for a used boat sale will greatly help you to purchase at a lower price point than you would if you purchased it new. Investing in a boat can also help you generate more money, because you can use a boat for commercial travel and tourism. If you purchased a small yacht and don't want it to become a white elephant, then you can turn it around and make money from it by having yacht rentals, yacht day cruises, and lots more. Many people enjoy renting a boat and may even celebrate a special occasion on it. The yachting industry is said to be valued at over $8 billion by 2022 according to statistics by Grand View Research.
Hopefully you have some more direction and are eager to wisely invest in some of these rare and beautiful options. You have many options to choose from, making it even easier to start focusing on your new investment ventures. You'll be earning nice profits if you research and make the right choices.